Straighten Your Teeth with Invisible Clear Aligners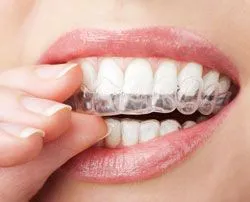 If your teeth are crowded, uneven, protruding, or have shifted since you last wore braces, Invisalign could help you achieve the beautiful, straight smile you desire. Invisalign is an "invisible", removable, and comfortable alternative to traditional orthodontic treatments and discreetly aligns your teeth. Many patients prefer this method so they can feel more confident about their appearance throughout treatment. Dr. Chetna Desai is a leading Invisalign provider and has been administering treatment at our Ellicott City, Maryland location with over 100 cases completed!
Is Invisalign Right for You?
Invisalign can be used to successfully to treat many issues such as:
Crooked teeth
Gaps
Overcrowding
Various malocclusions, such as overbites, underbites, or crossbites
Typically, you can be treated with Invisalign if you have all of your adult teeth, even if you have dental crowns or bridges. However, it is important to note that Invisalign is not the best solution for every patient. If you suffer from more severe malocclusion, traditional orthodontics may be recommended. We offer Invisalign treatment for both teens and adults.
Alternative Treatments
In contrast, some patients with very minor misalignment may be able to conceal these imperfections with porcelain veneers or dental bonding. It is important to note that these options will not correct the issue, but instead, only create the appearance of a straight smile.
Adult Orthodontics
Many adult patients are apprehensive to undergo orthodontic treatment due to social stigmas associated with orthodontics. However, we firmly believe that treatment can begin at any age. In fact, almost 80 percent of our Invisalign patients are adults. If you have been hesitant to pursue a straighter smile, we highly encourage you to schedule a consultation and learn more about why we recommend Invisalign for adult patients.
How Does Invisalign Work?
Invisalign consists of clear aligners that are custom made to fit your bite through a combination of our expertise and 3-D computer imaging technology. Prior to beginning treatment, Dr. Desai will create digital impressions using our iTero scanner. This scan will be used to plan your treatment in phases. Each set of aligners is typically worn for about two weeks, removing them only to eat, drink, brush, and floss.
You will visit our office once every six weeks so Dr. Desai can monitor your progress and ensure your teeth are shifting into proper alignment. During these appointments, you will be provided with your next series of aligners.
Each Invisalign tray is precisely custom-fit for your comfort.
Typically, Invisalign patients undergo treatment for about 12 to 18 months. This usually depends on the extent of malocclusion and your compliance with the treatment recommendations, which include wearing your aligners for at least 20 to 22 hours each day.
After Treatment
After your treatment is complete, you will need to continue to wear your last set of aligners or a retainer to maintain your results. Following the post-treatment guidelines is essential to prevent your teeth from shifting out of place. In the months immediately following treatment, you should be particularly careful to follow these instructions.
Dr. Desai is a leading Invisalign provider and has administered treatment for over 100 cases.
The doctor will advise you on when and how long you should wear a retainer or aligners after your initial treatment. However, most patients are required to wear them every day for about six months. Then you can usually switch to wearing them only while sleeping.
Advantages of Invisalign
Invisalign offers a number of distinct advantages over metal braces, including:
Discreet Treatment
If you consider your orthodontic treatment to be a private matter, or simply feel that metal braces do not fit with your self-image, a practically invisible form of orthodontic treatment might suit you. Simply put, Invisalign is one of the most discreet orthodontic treatments available.
No Dietary Restrictions
Some diet modifications are required in order to protect braces from breaking or brackets from coming loose. However, clear aligners are removed while you are eating so you can still enjoy the foods you love without the risk of damaging your appliances.
Improved Oral Hygiene
Patients with traditional braces often struggle to reach areas of the teeth and gums that are blocked by brackets and wires. With an orthodontic appliance that is removable, you will be able to maintain your regular oral hygiene routine and better protect your smile.
More Convenient
Many patients delay orthodontic treatment until after milestone events. However, Invisalign trays are removable, allowing you to feel confident during important occasions such as prom or a wedding.
Greater Comfort
The thin, smooth, and flexible material used to create your Invisalign trays is gentle on your lips and gums, preventing irritation and sores that are commonly caused by traditional brackets and wires.
Protection against Teeth Grinding
If you suffer from bruxism, or teeth grinding, clear aligners can function as a thin night guard that help protects your teeth against the harmful effects of this condition such as excessive wear.
Like all orthodontic treatments, Invisalign can transform your smile, enhancing your appearance and your self-confidence. For some patients, orthodontic treatment can also help improve the uncomfortable symptoms of temporomandibular joint (TMJ) disorder such as headaches and tension.
Expert Invisalign Treatment
Dr. Desai is one of the top Invisalign practitioners in the country. She is a Preferred Provider and an official member of the American Academy of Clear Aligners. While many dentists offer the option, receiving treatment from a Preferred Provider is highly recommended. Dr. Desai's years of additional training and treatment experience allow her to provide you with precise, efficient orthodontic care that yields the best possible results.
Is Invisalign Covered by Insurance?
In some cases, Invisalign is covered by insurance just as any other orthodontic treatment. You may be eligible for partial or even full coverage. If your provider does not offer Invisalign coverage, we may be able to break up your total treatment cost with a monthly payment plan using Care Credit , Lending Point or an in-office payment plan.
Schedule Your Consultation
To learn more about Invisalign in the Ellicott City, MD area, or to find out if you are a good candidate for this treatment, contact us online or call us at (410) 480-9111. Dr. Desai is dedicated to providing the finest Invisalign care and takes great pride in helping patients achieve a healthy, beautiful smile they can feel confident in.
---
Severe Crowding & Periodontal Health
Goal: Correction of severe crowding to achieve periodontal health.
Ms. W has been a long time patient of ours. She came to us with the complaint that her canines have always been unpleasing to look at. We recommended Invisalign to correct not only her canines but her full smile. She didn't think it was possible, and was absolutely surprised and thankful that we fulfilled her desire to have a perfect smile. She is coming back to complete the final step of cosmetically correcting space between the front two teeth with BioClear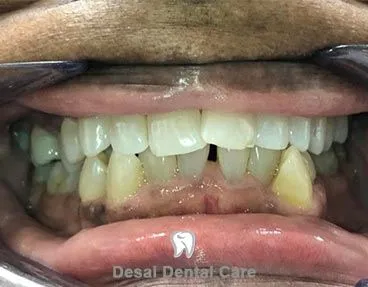 Before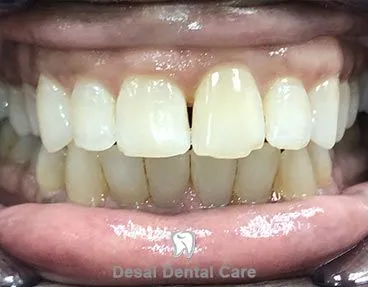 After
---
Aesthetic Case
Goal: A brand new smile
Mr. M is a car salesman by profession and having a confident smile goes a long way in his day to day life. He presented with a big diastema (large gap between front teeth). He was excited when we offered Invisalign since he never wanted ugly metal braces. Many adults assume orthodontics treatment is for kids only. The very fact that we can offer an invisible alternative that is removable is exciting for many adults.
Before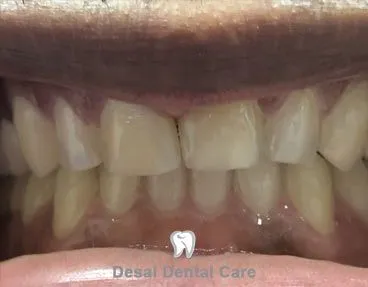 After
---
Restorative Case
Goal: A new solution
Ms. L initially came to us frustrated with her smile and hoping to get crowns for her front teeth before her daughter's wedding day! During the consultation Dr. Desai did a full mouth iTero digital dental health scan and recommended that if we don't fix her bite with Invisalign, the crowns will break. Often patients are not aware that having a strong foundation is critical to other restorative treatment. We performed her Invisalign treatment to create a strong foundation for her anterior crowns. We paused treatment after her top teeth were completed. She is coming back to continue and finish the lower arch treatment through an Invisalign refinement. Needlessly to say, her daugther's big day went well and Ms. L loves looking at photos from that special day over and over again!
Before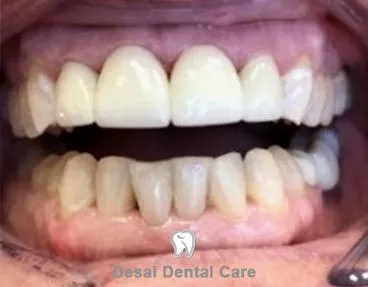 After