Desai Dental Care offers a full array of dental services to help you maintain healthy teeth and get your best smile possible. Click below to learn more.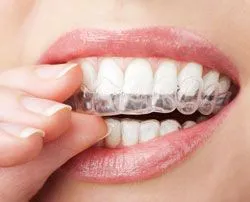 Invisalign
Invisalign's® invisible, removable, and comfortable aligners will give you the beautiful straight teeth you've always wanted. And best of all, no one can tell you're wearing them. Invisalign® is great for adults and teenagers.
Same Day Crown
Technology today is changing our everyday lives. Many people, however, aren't aware that technology also is impacting dentistry in new and exciting ways. Cutting-edge innovations in dental instruments are requiring less time in the dental chair, causing less discomfort and creating satisfying results. One breakthrough instrument, called CEREC, allows dentists to quickly restore damaged teeth with natural-colored ceramic fillings, saving patients time and inconvenience.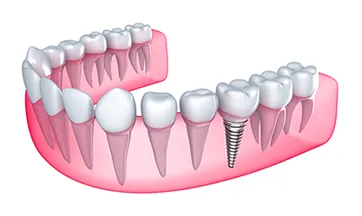 Dental Implants
Dental implants are synthetic structures that are placed in the area of the tooth normally occupied by the root. Implants are anchored to the jawbone or metal framework on the bone and act as a foundation for an artificial tooth or permanent bridge. In some cases, implants can be used to attach dentures.
Zoom! Teeth Whitening
Our state-of-the-art, in-office Power Bleaching ZOOM system will make your teeth whiter in less than 1.5 hours. Another option is our home bleaching system you take with you for results in 2 weeks. You can also consider a combination program of both systems for optimal, long-term results.
Veneers
You can have a new smile with all-porcelain Veneers and crowns ( IPS Emax CAD ) on the anterior teeth. For the posterior, we use porcelain fused to metal, Full Zerconia and IPS Emax layered crowns.
Fillings: Resin
Tooth-colored filings that are light cured to match your teeth. We DO NOT use Amalgam ( Silver with Mercury ) restorations anymore.
Root Canals
We perform root canals on anterior and premolar teeth. An appropriate referral available for the Endodontists we work closely with for molar teeth.
Periodontal Treatment
You should have a standard cleaning at least twice a year. A periodontal treatment includes an Adult Prophy (basic cleaning). If it has been over a year since your last cleaning, possible treatment will include either Periodontal Scaling (deeper) or Root Planning and Scaling (requires anesthetic). Our very gentle and knowledgable Hygienists explain the home care methods and importance of periodic professional check ups and cleanings.
Mouth Guards
Whether you are an athlete or casual sports participant, you should wear a mouth guard to protect your teeth. If you grind your teeth while you sleep, a bite guard will help reduce symptoms of TMJ. We custom make mouth guards in both soft and hard materials.
Removable Dental Prosthesis
For missing teeth, we can make dentures or removable partials for you. We also Reinforce loose and an illfitting dentures with
MINI IMPLANTS after careful examination and screening if you are a good candidate for the same
Invisalign service to correct crowding, spacing , deep bite , overjet and rotations also offered at the office . A convinient payment plans are also available. Ask our friendly staff to set up a Care Credit Application . We also offer a recurrent Credit card payment plan option.